Here is our review of the Vulcan PowerFry or LG300
This video below covers the specs, pros and cons of the fryer for those who aren't interested in reading but mind you, the video is a bit old. Let us know what you think of the fryer and if you or you business would like to purchase on here is a link to do so: https://www.mclhospitality.com/product/fryer-gas-vuclan-lg300/
If you're looking for a quality deep fryer, you may be wondering whether to choose the Vulcan PowerFry or the LG300. Both are excellent choices, but there are some key differences to keep in mind.
The Vulcan PowerFry is a commercial-grade deep fryer that can handle large quantities of food. It features a built-in filtration system and an automatic shut-off feature. The LG300, on the other hand, is a smaller fryer that's more suitable for home use. It doesn't have a filtration system, but it does have a manual shut-off switch. For more information on specs check out the Vulcan spec sheet.
Here's where the  LG300 stands out
Efficient Operation
Boasting a 14″ x 14″ frying area, this tube-style fryer delivers 90,000 BTU of power. This unit includes a large V-shaped cold zone at the bottom of the fry tank to prevent crumbs and other debris from burning, which extends the life of your oil and keeps products tasting great.
Durable Construction
The fry tank is comprised of rugged stainless steel that's designed to withstand the hustle and bustle of a busy commercial kitchen, while the sides and back feature a non-corrosive, galvanized finish. It stands on four sturdy, nickel-plated legs for stability.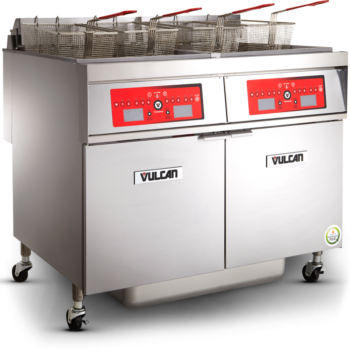 User-friendly Design
Equipped with user-friendly snap action millivolt controls, this unit's temperature can be adjusted from 200-400 degrees Fahrenheit in just a few simple steps. Plus, to ensure safety, a hi-limit indicator shuts off the gas connection and standing pilot if the oil temperatures get too high.
Easy Cleaning
A 1 1/4″ full port drain valve makes oil removal a quick and hassle-free process. Plus, the basket hanger is removable for thorough cleaning. Additionally, this model has a non-stick exterior that helps prevent food from sticking and making a mess.
Natural Gas Connection
For your convenience, this fryer comes with both a 1/2″ and 3/4″ gas connection. The Vulcan LG300 is a high-performance natural gas connection system that provides an efficient and reliable way to connect your home or business to the natural gas network. The system uses an advanced pipe welding technique that ensures a secure and permanent connection, while the unique design allows for easy installation and maintenance.
Comfortable Use
This unit comes with 2 twin fry baskets, so you can get to frying once the tank is full. Both baskets have plastic coated handles to ensure comfort. This makes the Vulcan LG300 a great piece of equipment to train new hires on.