Whether you are a professional baker or just someone who likes to make cakes in their free time, this list can help you get your kitchen properly prepared for all the making that's going to ensue. You probably won't need every single item on this list, but it is nice to know what they all do so you will always choose the right bakeware to use.
The Pans and the Tins
Below we have our collection of various pans in tins you will most likely use in your kitchen if you wish to bake.
1. Baking Sheets
Let's start off this list with something super common: the baking sheet. Mostly referred to as a "cookie sheet", a baking sheet is a flat, rectangular metal pan. Some sheets are made with perforations that help pizza crust cook better and faster. Other sheets may contain an air pocket with the purpose of preventing food from burning. Baking sheets can also come with one or more raised edges to ease the task of moving food in and out of the oven. Baking sheets with raised sides can also be used for containing runny batters while baking.
Though typically used for cookies, so many different foods, both sweet and savory, can be cooked or baked on a baking sheet. This includes breads, pizza, slab pies and even sheet pan cake.
2. Baking Dishes
Baking dishes are flat pans with raised, straight edges to hold runny foods. There are many sizes and depths available. Baking dishes are also made from a number of materials like glass and stoneware. You can make pretty much anything in a baking dish, including brownies, lasagna, potato dishes, and meats.
3.  Square and Rectangular Pans
Square and rectangular pans are a staple in the baking world. They can handle a number of jobs, and they will always get the job done. You can bake cakes, brownies, and plenty of other foods. An 8-by-8 square pan is a good size to purchase, and 9-by-13 rectangular pans are good as well, especially for cakes.
4.  Round Pans
Though they are best known as cake pans, round pans are versatile and can be used to bake other desserts like brownies. The pans are typically made from aluminum to produce cake layers that are evenly baked. Along with having many uses, round pans also come in several sizes to choose from.
As with square and rectangular pans, a round pan is perfect for making a layer cake. You can use pans of all the same size for a perfect cylindrical shape. Another option is to use pans of different sizes to make a cake in the shape of a traditional or common wedding cake.
5.  Springform Pans
A springform pan is a round pan with tall, straight, removable sides. They typically have non-stick surfaces and can be made from tinned steel, steel, stainless steel, and carbon steel. The purpose of the removable sides is to aid in removing cakes that may be a bit difficult to remove. A cheesecake is an example of these types of cakes. When purchasing a springform pan, make sure the size fir perfectly on the base so that the cake does not come out of it prematurely.
6.  Muffin Tins
A muffin tin is used to make muffins, cinnamon buns, and any other dessert that meant to be individually portioned. Most muffin tins contain either 6 or 12 pockets to bake each pastry. Muffin batter is poured into each pocket and as it bakes, a top forms over the pocket. The rest of the muffin is of course baked in the cup. Due to their similar shape, cupcakes are also baked using muffin tins. Muffin tins are also often used to bake cupcakes. If you truly want to bake your muffins individually, there are singular cups made from silicone that you can use.
7.  Muffin Top Pans
If you wish to make only the top of the muffin, this pan is shallow enough to do just that. Like normal muffin tins, muffin top pans have 6 and 12 cup options. This pan is sometimes referred to as a bun pan, since you can also bake buns in it.
8.  Doughnut Pans
Doughnut pans have a similar build to a muffin tin. The only difference is that the cups in a doughnut pan are rounded at the bottom and contain a stem which creates the doughnut hole. Doughnut pans provide a healthy alternate to using oil to fry the doughnuts. These pans are also made of either metal or silicone. You can purchase a pan with either 6 or 12 cups.
9.  Bread Pans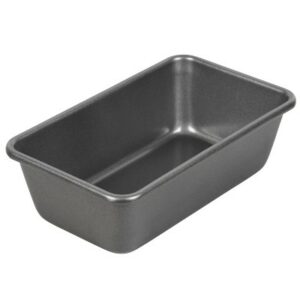 These durable pans can be made of materials like aluminized steel, glass, pottery, and cast iron. They are rectangular in shape and deep walled, ideal for baking a loaf of bread. The smaller pans work well for making dessert loaves, while a larger pan can be used for savory dishes like meat loaf.
10.  French Bread Pans
French bread pans are typically made of metal or aluminum and are used to make baguettes. If the pan is made of metal, the tubes may contain perforations which allow for steam to escape. The holes also help the bread's crust to brown and become crisp. Long lengths of dough are laid along the curved base to bake. Some pans are crafted for you to bake several loaves at once.
11.  Brioche Pans
Speaking of French bread, have you ever made the French bread known as Brioche? Well, you need a special pan for that. A brioche pan or mold has fluted sides that forms alternating columns on the base of the bread.
12.  Bundt Pans
This kind of pan is formed with an indented curvature and a hollow tube in the center. The pan's shape allows cake batters to rise and bake more uniformly. Once everything is done baking, the pan is flipped over, and the cake falls out in a beautiful shape. Bundt pans are generally used for baking coffee cakes and sweet cakes, referred to as Bundt cakes.
13.  Jelly Roll Pans
These pans are large and rectangular in shape. They have shallow sides and generally a rolled rim. They are made from aluminum, stainless steel, or steel. Sometimes the pans can have an added non-stick surface. Jelly roll pans are designed to bake a thin cake which is coated with a layer of jelly. At the end of baking, the cake is rolled up into what we call a jelly roll. You can also bake sheet cakes and other pastries with this type of pan.
14.  Pie Plates
Also called a pie tin, a pie plate can be made of glass, aluminum, stoneware, or ceramic. It has a round shape and shallow, slanted sides that help you craft the perfect pie every time, whether it's apple or blueberry. A pie plate is available in several sizes, the most common being 8, 9 and 10 inch diameters. It is also available in a deep-dish variety that is most often used to bake a savory dish.
15.  Tart Pans
Tart pans are round or oblong in shape and they have smooth or fluted sides. The cool part of a tart pan is that it has a removable bottom so that the tart can be cleanly and easily pushed up out of the pan. This also ensures that the tart keeps its shape.
Round tart pans are also called quiche pans since people often use them to make quiches. Oftentimes, quiches are baked in a ceramic tart pan with a bottom that isn't removable. This type of tart pan doubles as a serving dish.
16.  Flan Pans
Flan pans are another kind of pan with fluted sides. They can be made from tin, steel, and even on-stick covered metal. Flan pans are shallow and have a bottom that is raised in the center. This causes the cake to have a plateau in the middle with raised edges.
17.  Shortbread Pans
Specially made for shortbread cookies, these pans are constructed of a heavy cast iron or a coated aluminum surface. Shortbread pans are contoured with square or round pattern designs to create beautiful and delicious cookies. Along with shortbread cookies, you can use this pan to make biscuits, bars, and other pastries.
18.  Tube Pans
If you are hoping to bake an angel food or sponge cake, then a tube pan will surely do the job. Tube pans are round and have a hollow tube that protrudes from the center. This tube helps the cake to bake evenly. Once you are done, simply flip the pan to remove the cake.
19.  Popover Pans
Popovers are like muffins, but much larger and way fluffier. Because of this, a regular muffin tin will not work. Popover pans have larger containers compared to a traditional muffin tin. The cups are also spaced further apart to ensure the popovers do not touch each other while they bake. The cups are connected by a wire rack. The lip of the cup is what separates the base and the head of the baked popover. While the base is baked in a uniform shape, the head "pops" over into its irregular, puffy shape. Popover pans typically include about 4 or 6 cups. Smaller pans may hold as many as 8 or 10 cups.